MPO-LC Truck Harness Single-mode/Multimode
MPO Truck Harness (3-100m)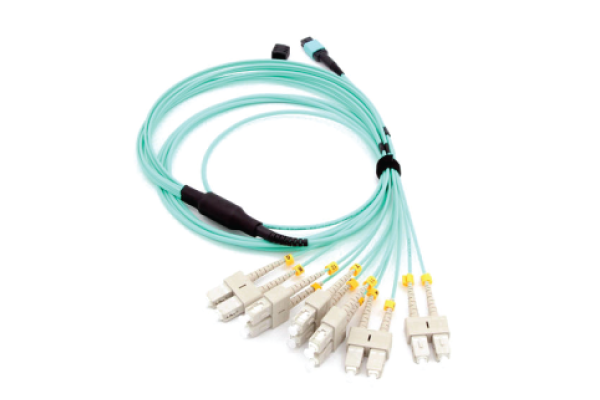 FEATURES
ㆍ Eliminate termination errors, Min installation time.
ㆍEach cable is 100% tested for low insertion loss and back reflection.
ㆍ Optimized performance – Elite MPO and discrete premium connector.
Suitable for MPO application
STANDARD
ㆍSupport 40GBASE-SR4 in applicable parallel optics networks.
ㆍCompliant to IEC-61754-7 and TIA-604-5(FOCIS-5) standard.
Telcordia GR-1435-CORE, and RoHS
LSZH Jacket by Default
JIS C5982 , Structured cabling per TIA-568-C
Fiber Types: OS2 G652D, G.657A1, 50/125 OM3, OM4, OM5
Jacket standard colors: OS2 and G.657A1 yellow, OM3 and OM4 Aqua,
OM5 Lime Green
ㆍ Connectors: 12 x Fiber Ferrule MPO/MTP connector female (Un-pinned)
or male (Pinned)
Cable cores:24, 48, 72, 96, 144 cores Micro-Cable versions available
Jacket materials: LSZH, OFNP (Plenum), OFNR (Riser)
High Density Up to 144x Fibers in one cable
Pulling eyes and reel types optional
Fast Deployment: Modular cables and cassettes, make deployment
and maintenance easier work
APPLICATION
ㆍData Centers with High Density Requirement.
ㆍFiber Channel Storage.
ㆍ Parallel Processing Applications.
ㆍ Telecommunications and Backbone Installations.
DESCRIPTION
MPO/MTP Fiber Loopbacks is designed to provide a media of return patch for a fiber optic signal. Typically it is used for fiber optic
testing applications or network restorations. For the testing applications, the loopback signal is used for diagnosing a problem. Sending a
loopback test to network equipment, one at a time, is a technique for isolating a problem.
MPO/MTP to LC harness cables are used to fan out the 12-24 core MPO fibers into generic connectors, typical optical fiber types
are single mode OS2, multimode OM2, OM3, OM4. The MPO/MTP to LC harness cables can be made with 2mm or 3mm ruggedized furcation
legs in customized length, this will hep make it more rugged.
Detail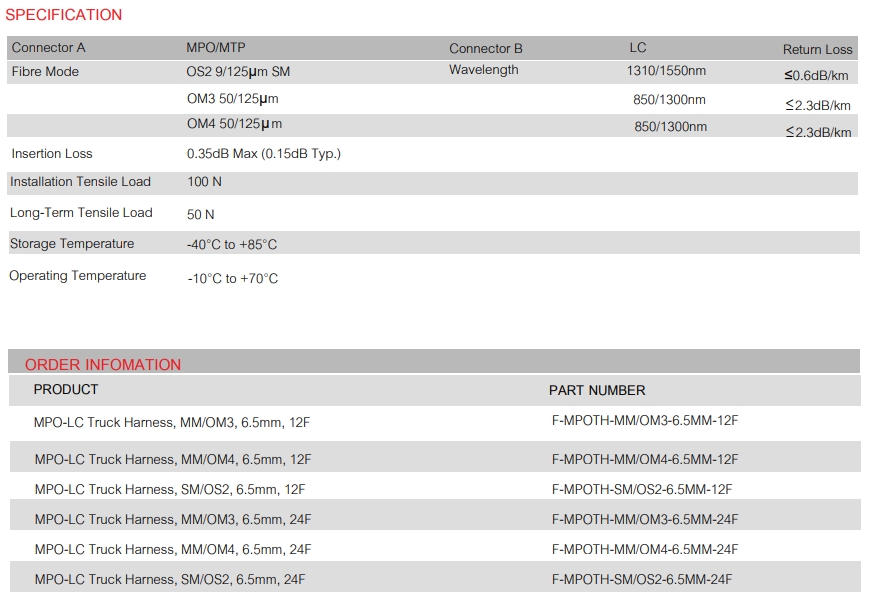 DATASHEET