PATCH CORD, DUPLEX/SIMPLEX, Single-mode/Multimode
Patch Cord SM/MM F-PC-XXXX-X-DX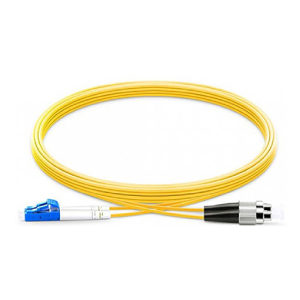 PERFORMANCE
* Typical Insertion Loss Single-mode: 0.15dB, Multi-mode: 0.15dB.
ㆍ Typical Return Loss (*), Single-mode: 50dB, Multi-mode: 20dB
ㆍCable retention 100N
ㆍOperating Temperature :-40~+85 'C
ㆍStorage Temperature: -45~+85 'C
FEATURES
ㆍCompatible with FC, SC, LC standard & ST. connector.
ㆍ PC ferrule with 20mm radius fast polishing.
ㆍFerrules-Zirconio Ceramic, Pre-rediused
ㆍ 8 degree angle PC ferrule with ultra low insertion loss.
ㆍ Cable Diameter 0.9 mm or 2 mm or 3 mm.
ㆍ Low back reflection loss.
ㆍEasy to handle Environmentally stable.
STANDARD
ㆍISO/IEC 11801:2002,ANSI/TIA-568-C.3 ANSI/TIA-568.3-D,EIA/TIA-455
,IEC 60793, IEC60794, IEC 60794-2-30, ITU-T G.652D (Singlemode),
ITU-T G.651(Multimode), RoHS Compliant, GR-326
APPLICATION
ㆍTelecommunications.
ㆍLocal area network.
ㆍ Use for fusion splice
ㆍFiber optic sensors.
ㆍCATV
ㆍTesting instruments.


DESCRIPTION
The FOCOMM offers a comprehensive line of fiber jumpers for connecting fiber links. Choose from simplex or duplex, multimode (62.5/125
or 50/125) or single mode, SC or ST, jumpers, or pigtails. Assemblies are available in standard lengths of 1, 2, 3, and 5 meters,(custom lengths are
also available). Each and every terminated connector is optically tested so that you can be assured that 100% of the FOCOMM-built cable assemblies
meet the stringent performance limits as noted in the specifications chart. All jumpers are manufactured using the finest quality connectors and OFNR
riser grade fiber
Detail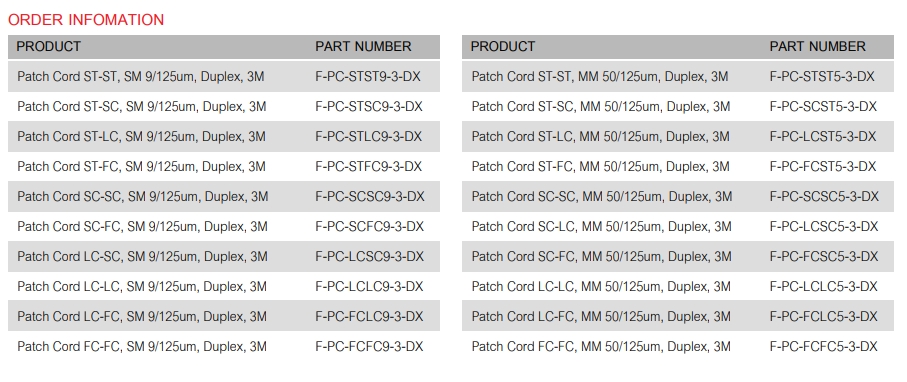 DATASHEET